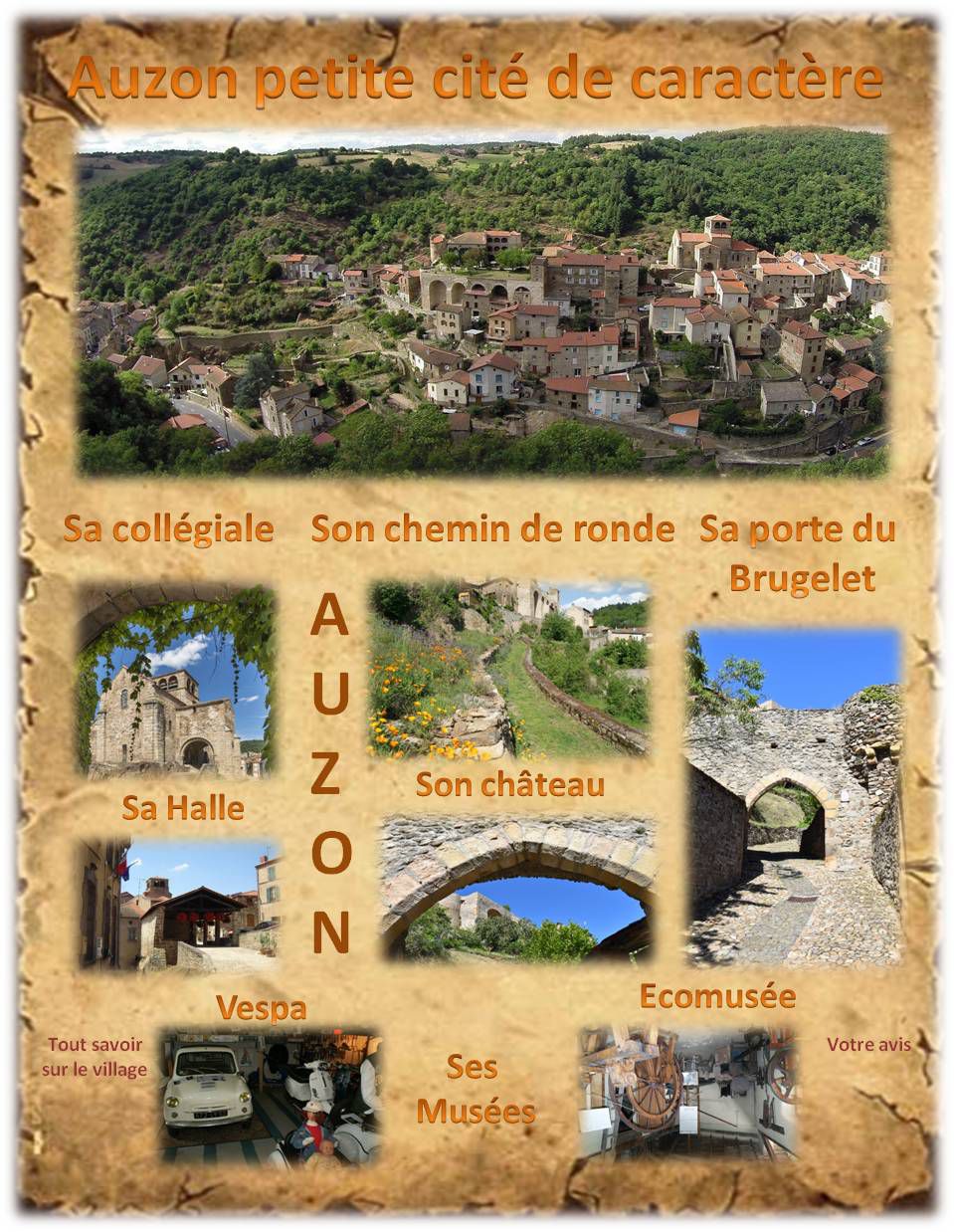 Discover Auzon, Petite Cité de Caractère
Between the fertile Limagne Plain and the Livradois Mountains, Auzon overlooks the Auzon and Gaudurel Valleys from atop its 441m high promontory.
This picturesque medieval town, nestled behind its ancient ramparts, boasts an exceptional architectural and religious heritage.
This owed it the ranking of Petite Cité de Caractère - Small City of Character and Ville d'Art et d'Histoire - City of Art and History.
You can explore on foot, along marked trails organised around different themes.
They'll take you along picturesque cobbled lanes and the old walkway that offers prime views of the lower village that unfolds along the river.
The municipality steadily restores Saint-Laurent Collegiate Church, a superb illustration of 12th century Romanesque architecture classified Historical Monument in 1906.
Auzon is also worldwide known for a whalebone casket, known variously as Coffret d'Auzon - Franks Casket - Auzon Runic Casket, which would have once belonged to the collegiate church.
This reliquary, made in Northumbria around 700AD, is now exhibited in the British Museum (except for a panel kept at the National Museum of the Bargello in Florence).
This valuable item was stolen (or more probably hidden) during the French Revolution.
It seems to have changed hands several times, until Augustus Wollaston Franks, the curator at the Department of Antiquities at the British Museum, purchased it during the 19th century.
The discovery circuit will take you also by the medieval Halle (covered market), as well as the castle, St-Michel Chapel and the Pays d'Auzon Eco-Museum*.
The latter exhibits nearly 800 original objects from local trades and traditions of yesteryear!
Auzon also boasts a very unusual museum: the Musée de la Vespa**, a private collection of about 30 original Vespas produced between 1947 and today.
Opening hours: Wednesday and Saturday afternoon in July and August, or by appointment the rest of the year (tel: +33 0673055598 - Email: tulipe.la@free.fr) - Free admission.
Finally, the nearby river Allier offers peaceful and quiet enclaves where anglers can devote themselves to their hobby.
Le texte a été réalisé par Dominique pour son site touristique que je remercie
Auzon, Petite Cité de Caractère in Auvergne
Travel France Online will use the information you provide on this form to keep in touch with you and to provide updates via our newsletter. By selecting the boxes on the form you confirm your ...
https://www.travelfranceonline.com/auzon-petite-cite-de-caractere-in-auvergne/